Plain White Bread – old style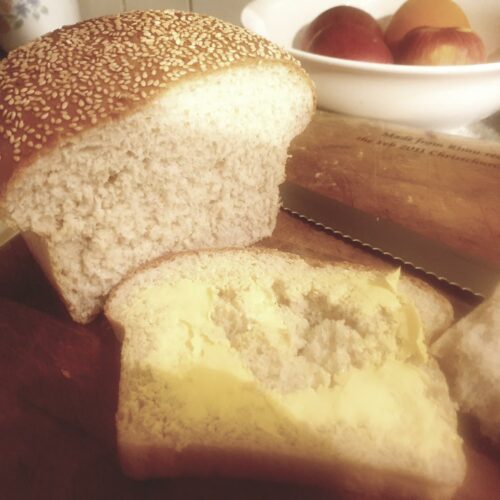 Simple White Bread – Dated 2017
This is a very easy white bread to make and can take about 1:15hrs to make
Equipment
A food mixer with a dough hook (Otherwise you will have to work the dough by hand- sorry?) It will take about 20mins of hard work to do by hand.
Ingredients
5

Cups

Flour

(High Grade Baking, Bread flour)

¼

Cup

Canola oil

½

Tsp

Salt

¼

Cup

Suger

You can use Brown suger, it will change the taste a little (But it is nice!)

1.5

Sachets

Edmonds Yeast

2

Cups

Water

@45 Deg C (Important!)
Instructions
Place all the ingredience in the mixing bowl

Start the mixer on the lowest setting for 2 mins

Add Water then leave the mixer on a low speed for 5 mins then turn it up a little for a further 10 mins

Take the dough out of the mixer and leave on the bench for 5 mins (Make sure you sprinkle a little flour on the bench first!)

Mould the dough for a few minutes and shape to fit in you dish

Spray the inside of you dish with Canola Oil, then slice 3 fine cuts across the top of your bread then place your dough in the your bread dish. At this point you could spray water on the top of your dough then add poppy sead or what ever you like? (Be cautIous of cheese)

Then Prove the Bread, Leave it in a warm place or a very warm room for Approx 30 to 40 mins or until it has doubled in size.

Place in a pre heated oven with forced fan or fan bake on @175 Deg C for approx 25 to 30 mins ( This timing will depend on the age of your oven) so keep a close eye on it and adjust as needed.

Place on a wire tray and IF YOUR CAN leave it to cool for at lease 30 mins

Thats it folks so simple and easy to make?